Allen Polt Biography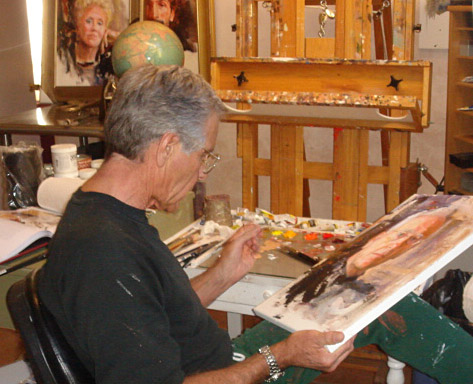 At age six, Allen Polt's first grade teacher, so impressed with his natural talent, arranged the artist's first one-man show. His gift was acknowledged and his future established.
Polt went on to the earn his Degree in Illustrating Arts from the Newark School of Fine and Industrial Art. After graduating, he worked in New York City, drawing black and white portraits for the Wall Street Journal. He continued his studies of drawing and painting under the direction of Frank Reilly of the Art Students League.
In 1974, Allen left Manhattan for a change of pace and found visual inspiration in the landscape of Taos, New Mexico — an art community inundated with landscapes. His masterful paintings have been featured in galleries across the Southwest. Albeit a diversity of subject matter, Polt's heart kept returning to people (portraiture, Characters of the Old West, and Old Mexico Market scenes).
Allen's ability to capture the essence of his subject's personality is appreciated through commissioned work throughout the world.
Allen comments on his work: "What is there about a painting that stops you?"
Does it stir an emotion in you?
Do you believe what the artist portrayed?
Is everything explained, or is there enough mystery for the viewer's imagination?
Has it been painted with passion and confidence or is overworked?
"Thoughts like these keep me in check and balance, nevertheless, I can tell you that in the midst of a painting, it's about the best place I can possibly be." Allen Polt
Learn more at Settlers West Galleries 6420 North Campbell Avenue, Tucson, AZ 85718
Allen Polt is a member of OPA, Oil Painters of America and Friends of Western Art
"I can tell you that being in the midst of a painting is about the best place I can possibly be."
-Allen Polt